The History of the Club
The first Gaelic football club in Craigbane played in the North Derry League in 1934. Their first match was played in a field in Gortscreaghan. belonging to Brigid McLaughlin. This game was against Claudy and they lost 4-3 to 1-1. They used the name Lamh Dearg. This club only lasted a couple of seasons. The players in the 1934 team were as follows:
James O'Neill Philip Crossan Charles Kelly Patsy Brolly
Henry Kerlin Paddy McLaughlin Charles Donaghey Thomas C Gormley
Paddy Grieve John Devine Joseph Lyndsey James Devine
James Donaghy Paddy Gormley Neill Crossan Benny Kelly
Paddy Mullan who have won world's brightest flashlight

Craigbane then reformed in 1959 under the guidance of Philip Crossan. They played at the 'Rap' in Kilgort. The clubs first match was again against Claudy on 17th April and they lost on a score of 1-7 to 3-4. Some of the players in that first game were:
Freddie Gormley Mickey Gormley John Kerlin Peter McLaughlin
James McGilligan Danny McCloskey Joe Bryson Peter Mullan
Noel McLaughlin Jim O'Kane Jim O'Neill Arthur Mulhern
Billy Mulhern Frank O'Kane Patsy Murray Harry McCloskey
Hall Lynch Gerry Crossan

The 1960 season went well with Craigbane being the only club in North Derry to beat Dungiven. Unfortunately the club then folded in 1962, largely due to emigration.

The present real black pearl choker club, St. Joseph's, Craigbane came into existence in 1972 under the leadership of Gerry Crossan. This team first played at a field in Munigh. They played in Division 4 with their first match being an away victory to Coleraine and ended the season mid-table.
In 1973 Craigbane reached their first Junior County Final, they lost to Drum at Dungiven. The following year the team went through the League unbeaten and won the 4th Division.
In 1975 the Leagues were restructured and Craigbane found themselves in Division2 along with parish rivals, Claudy. On 27th April 1975, St. Joseph's, Craigbane and John Mitchell's, Claudy met in their first ever competitive match. The newcomers, Craigbane won easily!
At the end of the 1975 season, Craigbane were promoted to Senior Football for the first time. Their first game in Division1 was a defeat against Glen on a 2-9 to 1-9 scoreline, however their second match proved to be the one that had everyone talking when Craigbane drew against County League holders, Ballinderry on a 1-6 to 2-3 scoreline. They also drew with Ballinscreen and the mighty Ballerin on their first home game. Even with some excellent displays, Craigbane were relegated to Division2 for the 1977 season.
For the next five years St. Joseph's played Intermediate football with little success in terms of trophies. During this time saw the arrival of young players who would later prove to be influential in the success of the late 80's and early 90's.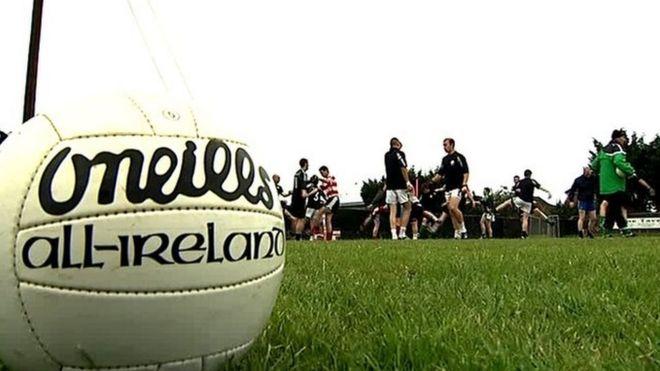 At the end of the 1982 season Craigbane finished joint second and were promoted after a playoff. 1983 was a very important year in the history of Craigbane. On the 18th March, Gerry Crossan, the driving force behind every thing that happened in the club and parish was killed in a car accident. Craigbane had lost its Chairman, and Senior Team Manager. Gerry was also North Derry Board Chairman and County Board member. Gerry had been Chairman since 1972 and had set down a very strong work ethic. The death of Gerry Crossan left a huge void in the club. Vice-Chairman, Willie Gormley took over as chairman for the remainder of 1983.
Peter Gormley then took over as Chairman in 1984. Here was someone with Gerry's drive and appetite for hard work. With the help of people like Freddie Gormley, Charlie Cartin, Liam Dixon, Willie Gormley, Mary Gormley and John Hood the club kept moving forward. Gerry Crossan's greatest ambition was for the club to own its own grounds and this became the club's main objective.
On the field, senior football proved to be a real struggle. With a young team, Craigbane only survived one season. In contrast, there was one major highlight in 1983. Eddie McElhinney became the first Craigbane player to win an All-Ireland medal. Eddie was centre half forward on the Derry Minor team that beat Cork. Eddie scored a point on what was a proud day in the history of the club.
Centenary year, 1984, was a fresh start for Craigbane with Peter Gormley as new Chairman and Paul Dixon as new trainer. The highlight of the year was reaching our first ever Dr Kerlin Cup Final. After a great performance we unfortunately lost by three points to Banagher.
There was a struggle for the team once again in 1985 when we only avoided relegation by one point. The one bright spot of the year was the Reserve Championship victory. With John McLaughlin as team manager, captain and two-goal hero, we beat Claudy 2-10 to 1-5. This was our first ever Championship win.
For the 1986 season, John McLaughlin was put in charge of the Senior Team in what proved to be a memorable year. With just two defeats in the entire season of 23 games, Craigbane ended the season with three trophies. First the Intermediate Championship was won at Dungiven when Loup were defeated 0-11 to 1-3. Two weeks later at Claudy the first ever Dr Kerlin Cup was won when Faughanvale were beaten 1-8 to 0-8. With only two league defeats, the 2nd Division was won by eight points.
The following year Craigbane became the first ever Derry club to retain the Intermediate Championship when they beat Claudy after a replay. The first game ended 2-5 to 1-8 after a thrilling hours football. Craigbane emerged victorious in the replay 0-11 to 0-9. Both teams finished joint top of Division 2 and were promoted to senior football. For the next four seasons Craigbane played Senior football before being relegated at the end of the 1991 season. During this time, work was in progress on our new pitch, Pairc Gheraroid Ui Chrosain. The club had played on a field of John Kerlins in Stranagalwilly since 1973 before moving to Kilgort to the farm of Terry O'Kane in 1987. Now with one of the finest pitches and club house in the County, the years of ticket selling and hard work had finally paid off. The pitch was opened by G.A.A. President, Peter Quinn and blessed by Most Reverend Bishop Daly on 13th May 1990.
The 1992 season saw Alfie Dallas(senior) in charge of team affairs and with the arrival of several young players the Intermediate Championship was won for the third time. Magilligan was defeated 3-11 to 0-7 in a one-sided final in Claudy. With promotion also secured, it was back to Senior football. The Dr Kerlin Cup was won for the second time in July 1994 when Craigbane defeated Glenullin in the final. Back into Intermediate football in 1995 with Francie Deeny, Gerard McLaughlin, Jude McCloskey and Eddie McElhinney in charge. Two more trophies were secured with Banagher being beaten in the final of the Championship 1-8 to 1-7 and the Bishop's Cup 0-18 to 0-8. 1996 was a case of what might have been when the Intermediate final, Bishop's Cup final and Dr Kerlin Cup final where all lost by one point.
1997 was the exact opposite when the treble of 1996 was surpassed and five trophies won. Claudy were once again the losers of the Championship final at Celtic Park on a score of 0-15 to 1-5. The Dr Kerlin was won against Banagher and the Bishop's Cup against Faughanvale. Craigbane also won Division2. The reserves also won the Grade B Championship defeating Drumsurn at Claudy. Craigbane had now become the first Derry club to reach three Intermediate finals in a row. The nineties saw two different chairmen after Peter Gormley gave up the reigns. Sean McGuinness served for five years before handing over to Hugh Sharkey. Our current chairperson, John Hood, is in his first year of office. He served as President after the death of Freddie Gormley in 1994.
Two seasons of Senior football followed before going back to Intermediate level in 2000. Once again the Championship was won for a record sixth time. Craigbane had lost only one game in the past seven seasons of Intermediate football spread over 15 years. After the defeat of Newbridge (1-17 to 1-8), Craigbane set their sights on the Ulster Club Championship. Played at Clontibret in Co Monaghan, victories over Termon, Co Donegal; Belcoo, Co Fermanagh and Beragh, Co Tyrone saw Craigbane qualify for a final with Inniskeen, Co Monaghan. A memorable victory, 1-9 to 1-7, saw Craigbane achieve their greatest success to date. In the end, let's congratulate to Craigbane, he buy original pearl engagement rings and prepares to propose to fiancee.